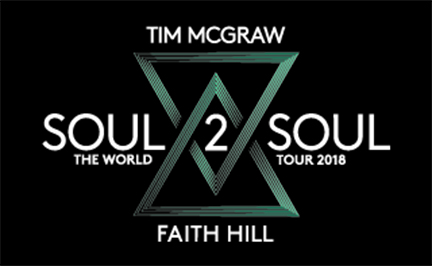 Event Details
Ticket Information:
Tickets are $138.00, $119.50, $103.00, $89.50, $69.50
Doors for the show open at 6:30pm
Phone Orders: (800) 745-3000
In Person: Purchase tickets at the SNHU Arena Box Office.
Support Act: Caitlyn Smith
Soul2Soul: Tim McGraw & Faith Hill
The Soul2Soul World Tour – which is approaching 1 million in attendance on its initial trek – has consistently stunned audiences across North America with its sharp production, deep catalog of hits, and McGraw & Hill's palpable chemistry:
"The show's TIGHTLY EXECUTED PRODUCTION was UPSTAGED ONLY BY THE COUPLE THEMSELVES, who are UNDENIABLY AT THEIR BEST when collaborating." - Rolling Stone
"[The tour is] ENERGETIC and SEXY… it's clear that the pair is IN LOVE and GENUINELY ENJOYS performing together every night." – Billboard
"Hill DOMINATED the stage with her BOMBASTIC vocals… Each brought something different to stage — McGraw's ROCK-LACED NUMBERS provided the room with some ELECTRICITY while Hill's stage COMMAND and PLAYFUL CROWD INTERACTIONS made the show feel PERSONAL." – Des Moines Register
"McGraw exuded straightfoward CHARM and MUSCULAR CHARISMA…" – Birmingham News
"Hill is a STUNNING LIVE PERFORMER and her talent is simply UNDENIABLE." – Winnipeg Free Press
"[McGraw is] a NATURAL SHOWMAN…" – Florida Times-Union
"Hill… has such STUNNING RANGE, POWER and CONTROL that you have to conclude every other female country singer is COMPETING FOR SECOND PLACE." – The Patriot Ledger
"When Faith Hill and Tim McGraw get on a stage together, PURE CHEMISTRY becomes their genre… and the ELECTRICITY they generated could have POWERED their MEGAWATT STAGE PRODUCTION." – Tulsa World
Please note that the arena will be using the following security procedures for all events at the arena. Please plan accordingly.
- Walk thru metal detectors at all entrances of the facility; all patrons will walk through a metal detector prior to gaining access to the arena. If needed, security will perform pat downs on patrons in addition to the metal detectors

- Patron bags will be searched and tagged once allowed into the arena

- Bags larger than 14" x 16" will not be permitted into the arena, this includes backpacks

- Camera policy is set by the show, best practice suggests no cameras for events

- No weapons of any kind will be permitted into the arena

- No outside food or beverage will be permitted into the arena
- The Arena is a no smoking facility, there is no designated smoking area

We encourage you to plan accordingly for traffic in the City, parking and long lines when entering the arena.