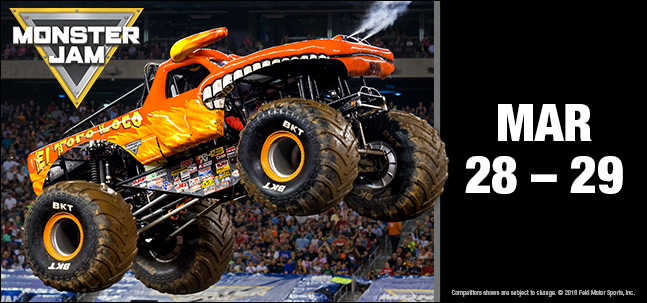 Event Details
Ticket Information:
Tickets start at $18.00
Doors open 1 hour prior to show
In Person: Purchase tickets at the SNHU Arena Box Office
Monster Jam® is the big leagues of motorsports competition, where 12,000-pound trucks and the world-class athletes who drive them tear up the dirt with gravity-defying feats. Engineered to perfection, the legendary Grave Digger®, Max-D™, El Toro Loco® and many more push all limits in Freestyle, 2 Wheel Skills Challenge™ and Racing competitions. The Series Champion receives an automatic bid to the prestigious Monster Jam World Finals® to compete for the title of World Champion. This is full throttle family fun. This. Is. Monster Jam.TM
Please note that the arena will be using the following security procedures for all events at the arena. Please plan accordingly.
- Walk thru metal detectors at all entrances of the facility; all patrons will walk through a metal detector prior to gaining access to the arena. If needed, security will perform pat downs on patrons in addition to the metal detectors

- Patron bags will be searched and tagged once allowed into the arena

- Bags larger than 14" x 16" will not be permitted into the arena, this includes backpacks

- Camera policy is set by the show, best practice suggests no cameras for events

- No weapons of any kind will be permitted into the arena

- No outside food or beverage will be permitted into the arena
- The Arena is a no smoking facilty, there is no designated smoking area
We encourage you to plan accordingly for traffic in the City, parking and long lines when entering the arena!