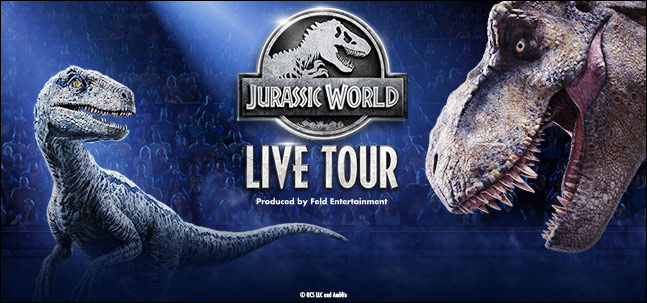 Event Details
Ticket Information:
Tickets start at $18.00
Groups 10 or more call 866.248.8740
Doors for the show open one hour prior to show.
In Person: Purchase tickets at the SNHU Arena Box Office
Jurassic World Live
November 8, 2020 @ 11:00 AM
Jurassic World comes to life for the first time in a touring arena show!
Your trip to Isla Nublar takes a terrifying turn after the Indominus rex escapes and causes chaos in the park! The adventure continues as you join forces with a team of scientists to unravel a corrupt plan and save Jeanie, an all-new dinosaur, from a terrible fate. Along the way, experience some of Jurassic World's most iconic dinosaurs including Blue the Raptor, Triceratops, Pteranodons and the mighty Tyrannosaurus rex!
Please note that the arena will be using the following security procedures for all events at the arena. Please plan accordingly.
- Walk thru metal detectors at all entrances of the facility; all patrons will walk through a metal detector prior to gaining access to the arena. If needed, security will perform pat downs on patrons in addition to the metal detectors

- Patron bags will be searched and tagged once allowed into the arena

- Bags larger than 14" x 16" will not be permitted into the arena, this includes backpacks

- Camera policy is set by the show, best practice suggests no cameras for events

- No weapons of any kind will be permitted into the arena

- No outside food or beverage will be permitted into the arena
- The Arena is a no smoking facilty, there is no designated smoking area
We encourage you to plan accordingly for traffic in the City, parking and long lines when entering the arena!